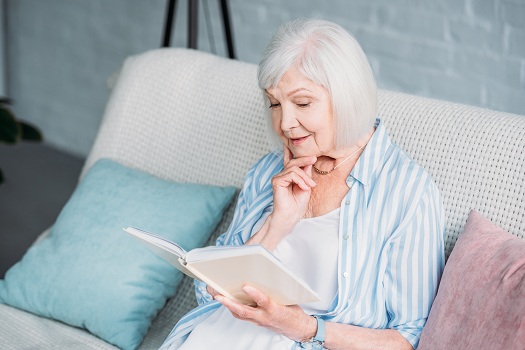 Having fun activities to do can make any senior's day brighter. Of course, not every person likes the same thing, but in general, enjoyable activities are those that allow seniors to explore, create, compete, or learn without requiring intense physical motion. Here are a few ideas for great activities to try out during the senior years.
1. Reading
A senior can settle into a cozy armchair with a good book or take a book outside and spend a relaxing afternoon reading. Books are a great way to learn new information and get lost in fascinating stories, and the act of reading stimulates the brain.
2. Doing Puzzles
Solving puzzles is a fun brain-boosting activity that provides hours of entertainment and immense satisfaction. There are a variety of options to pick from, ranging from traditional jigsaw puzzles to books with crosswords, Sudoku, and other fun types of puzzles. Seniors with mobility or eyesight issues can find extra-large puzzles.
3. Dancing
Moving to the rhythm of music can be a pleasant activity. In addition to letting seniors explore their creativity, dancing can also be a good workout that builds flexibility and endurance. Dancing is fun for people of all ages and skill levels. Seniors can just enjoy the social aspects of dancing at their local senior centers or get into the intense world of ballroom dancing championships. 
Although some elderly people have mobility challenges that limit their ability to dance, they can still get out of the house and socialize with the help of professional caregivers.
Irving elder care
professionals can be a wonderful boon to seniors. Whether they require around-the-clock supervision or just need assistance with exercise and household tasks a few days a week, seniors can enjoy a higher quality of life with the help of trusted in-home caregivers.
4. Going on Nature Walks
Walking in nature gives seniors a chance to explore the outdoors while maintaining their fitness levels. Seniors can pick local parks or other green spaces and enjoy strolling through them regularly. They can challenge themselves with tougher hikes or take pleasant strolls along paved trails
5. Knitting
This fun hobby gives seniors something to do with their hands while watching television. It's a fun option because at the end of a project, they'll have created a useful sweater, quilt, or other item.
6. Cooking
The senior years are a great time to explore different cuisines and cooking methods. Cooking is a fun activity that can result in plenty of tasty, healthy meals.
If your parent needs assistance with cooking at home safely, a home caregiver can be a wonderful source of support. Living independently is important for seniors who want to maintain a high quality of life. For some, this simply means receiving help with tasks that have become more challenging to manage over time. Even when families have the best intentions, they may not have the time to provide the care their elderly loved ones need and deserve. If your loved one needs help for a few hours a day or a few days a week, reach out to Home Care Assistance, a trusted provider of
respite care Irving
seniors can depend on.
7. Playing a Musical Instrument
Even seniors who think they're not musically inclined can benefit from learning a new skill. Playing an instrument is beneficial because it requires practicing, stimulating memory, and using fine motor skills. It can also be a fun way to express creativity.
8. Gardening
Spending time with growing things can boost mood and reduce the risk of depression. Maintaining a big garden can be a great way to get some exercise and grow fresh fruits and vegetables, but smaller projects, such as making a terrarium or windowsill display, can also be fun.
Engaging in fun activities helps seniors boost their physical, mental, and emotional wellbeing, and some aging adults need a bit of assistance to remain active. Living alone at home in the golden years can present a few unique challenges. Trust
homecare
professionals to help your senior loved one maintain a higher quality of life while he or she lives with an illness and performs the daily tasks of living. Home Care Assistance is here to help. Reach out to one of our compassionate Care Managers today at (817) 591-1580.