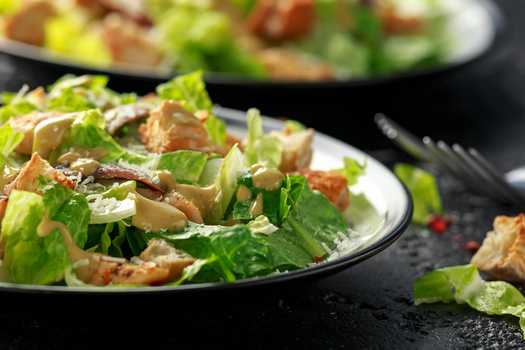 When providing care for your elderly loved one, one of the top ways you can help him or her stay healthy is by encouraging sound dietary decisions. Some people believe nutritious food is always bland, but this is rarely the case. For example, a Caesar salad can be both flavorful and healthy, and many of its ingredients can promote your loved one's health. 
Romaine Lettuce
Romaine lettuce, the main ingredient in Caesar salads, provides fiber and other essential nutrients. It contains lutein and vitamin C, both of which can guard against macular degeneration, which leads to blindness in seniors. The American Institute for Cancer Research reports this nutrient-dense leafy vegetable contains cancer-fighting agents as well.
A home caregiver with training in nutrition can be a wonderful source of information and support as your loved one adopts new healthy habits, including eating a more nutritious diet.
In-home care
agencies
can be a great boon to seniors. With the help of the caregivers at Home Care Assistance, your aging loved one can lead a happier and healthier life. We offer a revolutionary program called the Balanced Care Method, which encourages seniors to eat nutritious foods, exercise and socialize regularly, and focus on other lifestyle factors that increase life expectancy.
Chicken
Healthy lean meats such as chicken, which is often added to Caesar salads, can provide a great source of protein. Protein maintains fluid balance within the body and builds muscle tissue, and the
Journal of the American College of Nutrition
reports older adults require more protein per pound than younger adults do. 
Anchovies
Anchovies are a good source of protein as well, and they're rich in fatty acids. Researchers at the University of California, San Diego School of Medicine have concluded the longevity of adults living in Acciaroli, Italy, may be due in part to their diets, which are high in anchovies. It's worth mentioning 20 percent of Acciaroli residents live to be over the age of 100. 
Family caregivers need to maintain healthy lifestyles too, which involves self-care and making time to attend to their own wellbeing. Whether you need respite from your caregiving duties or your aging loved one needs
live-in care, Arlington, TX
, Home Care Assistance can meet your family's care needs. Our dedicated caregivers are available around the clock to provide transportation to doctor's appointments, ensure seniors take their prescribed medications, and help with a variety of tasks in and outside the home.
Lemon Juice
Lemon juice is used in the dressing for a Caesar salad, and the vitamin C it contains supports immune function. Lemons are also loaded with flavonoids, which have antioxidant, anti-inflammatory, antiviral, and anticancer properties. 
Garlic
The garlic in Caesar salad dressing can lower LDL cholesterol, reduce blood pressure, and act as a natural antibiotic. Garlic is also well known for its ability to prevent various infections, and the National Cancer Institute claims its antibacterial qualities block the formation and activation of many cancer-causing substances. 
Professional caregivers with expertise in nutrition can be a terrific asset for seniors who are adopting healthier lifestyle habits. If your aging loved one needs help managing everyday tasks or encouragement to adopt healthier lifestyle choices, turn to Home Care Assistance, a leading provider of
elderly home care. Arlington
Home Care Assistance provides professional in-home caregivers around the clock to help seniors live longer, happier, and healthier lives. To create a customized in-home care plan for your loved one, call us at (817) 591-1580.