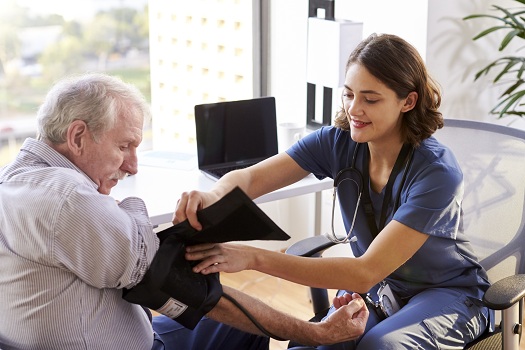 Some seniors become lax about essential health screenings for a variety of reasons, and sometimes it's because they simply don't want to get them. If you're a family caregiver for a senior loved one, it's crucial to ensure he or she is routinely checked for certain health issues, including the following.
Cholesterol
There are many benefits to routinely checking cholesterol, including minimizing the risk of heart disease, stroke, and other life-threatening diseases. Maintaining healthy levels of cholesterol is very important, especially for seniors who are diabetic, smoke, or have family histories of heart disease, and a simple blood test is all it takes to get results.
Blood Pressure
Blood pressure checks are one of the most important screenings for seniors. High blood pressure often has no outward indicators, but it can lead to many dangerous conditions, including stroke, blood clots in the brain, and dementia, among other things. Regular blood pressure checks can reduce the risk of cardiovascular disease, heart attacks, and strokes. Blood pressure should be checked at least once every two years, and more often in seniors over the age of 65. If your loved one needs to lower his or her blood pressure, several preventative measures can help, such as exercising regularly, increasing water consumption, and reducing the amount of sodium in the diet.
A home caregiver can help your loved one make healthy lifestyle choices that boost his or her long-term wellbeing. In
Arlington, homecare
agencies
can be a great boon to seniors. With the help of the caregivers at Home Care Assistance, your aging loved one can lead a happier and healthier life. We offer a revolutionary program called the Balanced Care Method, which encourages seniors to eat nutritious foods, exercise and socialize regularly, and focus on other lifestyle factors that increase life expectancy.
Diabetes
High blood sugar can go undetected for years, but a simple test can identify it before it causes severe health problems, such as nerve damage. All seniors, especially those who are overweight or otherwise at high risk, can benefit from annual diabetes screenings, which are proven to detect prediabetes and allow for preventative treatment before it becomes type-2 diabetes. If your parent is prediabetic, he or she may be able to reverse the course of the disease if it's detected in time. Diabetes screening is particularly important for seniors who are overweight or obese, but a doctor may still recommend it for an older adult whose weight is within a healthy range.
One of the many essential forms of assistance a home caregiver can provide is transportation to medical appointments, including regular checkups and screenings. For some families, caring for a senior loved one can be overwhelming at times. Luckily, they can rely on professional
respite care. Arlington, TX
, Home Care Assistance is a trusted name in respite and hourly care. Our caregivers are available around the clock to assist seniors with bathing, transportation, medication reminders, exercise, and much more, allowing families the time they need to focus on other important responsibilities or just take a break.
Depression
Depression isn't uncommon among seniors, especially those who live alone or have chronic health conditions. Depression can be diagnosed through screening by your loved one's primary care physician or a mental health specialist. Screening for depression can lead to comprehensive treatment, which may include therapy and medication.
Colorectal Cancer
Colon cancer occurs most frequently in aging adults, and it can often be treated successfully in its early stages. Colonoscopies are one way of checking for colorectal cancer, and there are also newer, less invasive options, such as the fecal immunochemical test.
Breast Cancer
Women who are older than 50 should have mammograms every two years. A mammogram can detect abnormal breast tissue before significant cancerous masses develop. Your loved one may be able to get this test at her doctor's office or at a women's wellness facility. 
There are a variety of age-related health conditions that can make it more challenging for seniors to live independently. However, many of the challenges they face can be easier to address if their families opt for professional
senior home care
. You can rely on expertly trained caregivers to keep your loved one safe and comfortable while aging in place. Trust your loved one's care to the professionals at Home Care Assistance. Reach out to one of our compassionate Care Managers today at (817) 591-1580.