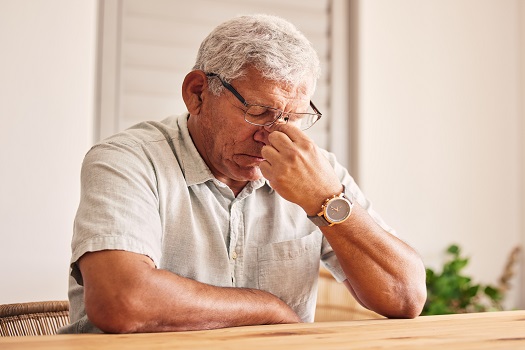 While strokes can occur at any age, seniors are at increased risk for lasting side effects of stroke. If you're a family caregiver, one way you can ensure your senior loved one has the best chance of an efficient recovery in the case of a stroke is to seek immediate medical attention. To ensure you're able to recognize a stroke as it's happening, here are five common symptoms of senior strokes. 
1. Numbness on One Side
Sudden numbness, weakness, or paralysis in the face, arms, and legs on one side of the body is a sign of a stroke. If you suspect something is wrong, ask your loved one to raise his or her arms. If your loved one can't lift one arm or one arm hangs lower than the other, or if his or her face droops on one side, seek emergency assistance. 
Stroke recovery can be a long and challenging process. If your senior loved one has been diagnosed with a serious condition and needs help with tasks like meal prep, transportation, bathing, and grooming, reach out to Home Care Assistance, a leading provider of
elderly home care
families can trust. We also offer comprehensive care for seniors with dementia, Alzheimer's, and Parkinson's.
2. Severe Headaches
During a stroke, the blood clot cuts off oxygen to parts of the brain and can cause a sudden severe headache. While an occasional headache is normal, take note if your loved one experiences the rapid onset of a headache. Headaches caused by stroke are characterized by severe pressure and a throbbing sensation. 
3. Difficulty with Communication
If your loved one is experiencing a stroke, he or she may have difficulty communicating. This difficulty may include confusion, slurred words, trouble getting sounds out, and not being able to understand others. When a senior who is normally articulate or verbal is suddenly unable to answer simple questions or even articulate names without sounding slurred or garbled, a stroke is the likely cause. 
Stroke is just one of the many medical conditions older adults are susceptible to.
There are a variety of age-related health conditions that can make it more challenging for seniors to live independently. However, many of the challenges they face can be easier to manage if their families opt for professional
home care. Irving
families can rely on expertly trained caregivers to keep their loved ones safe and comfortable while aging in place.
4. Sudden Vision Problems
Sudden blurry vision or difficulty seeing is a common sign of oxygen being cut off to the optic nerve in the brain. These types of vision problems can occur in one or both eyes, depending on where the blockage is. If your loved one experiences a rapid change in vision, he or she may be having a stroke. 
5. Coordination Problems
Sudden difficulty with coordination and balance may be caused by a lack of oxygen being delivered to the cerebellum. Problems with walking, dizziness, loss of balance, lack of coordination, and loss of muscle control can all be signs that a stroke is cutting off the blood flow to part of the brain.
Recovering from a stroke can make it difficult to manage daily tasks independently.
If your aging loved one needs occasional help with bathing, grooming, cooking, or other basic household tasks, or if you need time to attend to important personal matters, reach out to Home Care Assistance, a leading provider of live-in and
respite care. Irving
seniors can maintain their independence while living at home with the help of our reliable respite caregivers.
For reliable in-home care services, contact us at
(817) 591-1580 today.